Robot Vacuum with Mapping: Complete Buying Guide & Top Pick
A robot vacuum with mapping technology can learn and map your house. The mapping technology enables the vacuum to move regularly and cover all areas. You can also schedule the robot to clean any room at any time.
Conversely, a robot without mapping would just move randomly and might clean the same areas over and over again. Therefore, a robot vacuum with mapping would clean more efficiently and bring great convenience to your life.
In this article, let's start at how robot vacuums map your house, as well as our top robot vacuum with mapping pick.
Outline:
1. What is robot vacuum mapping
2. Types of mapping technology
3. Best robot vacuum with mapping
4. FAQs on robot vacuum mapping
#1. What Is Robot Vacuum Mapping
Robot vacuum mapping is a process where it maps your house during its first cleaning.  It combines collected data with information from other sensors to create a map of your home, and uploads it to the smartphone app.
The map helps the robot vacuum know what your house looks like, so that in the subsequent cleaning it can methodically clean all areas according to the map.
The mapping technology also allows the robot hoover to locate itself on the map, which will inform the robot of the areas it has already cleaned and the areas that need to clean. It can save battery life and make cleaning more efficient.
Some robot vacuums equipped with lidar or cameras technology allow you to assign them to clean a certain room that you wish to be cleaned.
What's more, if there is a low power during cleaning, this kind of robot vacuums will mark the place where they stop working. After it is fully charged, it is able to resume cleaning where it left off according to the map.
#2. Different Types of Mapping Technology
Robot vacuums use different technologies to help them map your house. Here we introduce four main mapping technologies.
1. Camera-Based Mapping Technology
A robot with cameras creates a map of your house by photographing its surroundings. This mapping technology is capable of drawing accurate maps, but it has a disadvantage. It will fail if the machine is working in the dark.
2. Gyroscope Mapping Technology
Gyroscopic mapping technology calculates the distance of the robot from objects. It uses a rapidly rotating wheel or a circular beam of light to determine the position of an obstacle relative to the robot.
Robot vacuums with gyroscopic navigation technology do not need supervision and guidance when it works. Sensors help them navigate and you don't need to worry about that if they will fall down stairs or hit walls and furniture.
What's more, they are cheaper than robots with laser-based mapping. If you want a robot with mapping but have a limited budget, you can buy a gyroscope technology based robot.
3. Lidar-Based Mapping Technology
Lidar is an invisible rotating laser. By placing a Lidar sensor on the top of the robot vacuum, it can collect the size of the room and measure all objects that may obstruct its cleaning path, such as furniture, sofas and tables.
Lidar technology is the most precise navigation way compared to others. It creates the most accurate map for the robot vacuum so that it can clean in the most efficient route instead of a random path.
4. Combined Mapping Technology
Some robotic vacuums use two or three mapping technologies to achieve the most accurate navigation. Besides, they may be combined with other sensors such as anti-drop sensors, wall sensors and anti-collision sensors, to help the device navigate effectively.
#3. Best Smart WiFi Robot Vacuum with Zig-Zag Mapping: Lubluelu SG60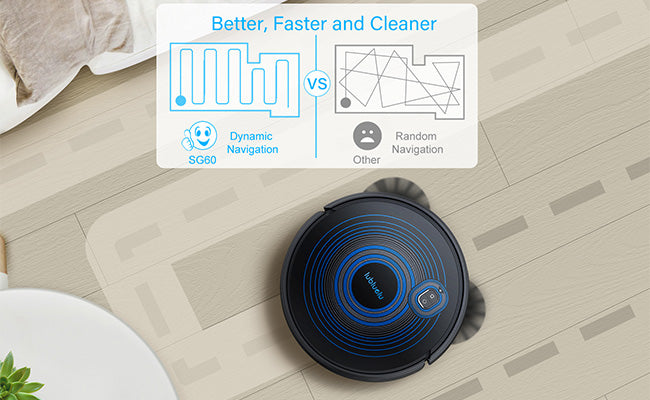 The top pick for the best robotic vacuum with mapping is the Lubluelu SG60. It applies gyroscope mapping technology to clean your house in a bow-shape mapping and achieves a complete and efficient cleaning, which can reduce the area of missed scanning and avoid repeated cleaning.
Besides, SG60 is equipped with anti-collision sensors, which can intelligently identify obstacles over 4 cm on its cleaning path, such as walls, sofas, shoes, wires, pet bowls, etc., and then automatically change the cleaning direction to avoid them.
Moreover, this robot vacuum applies infrared light to detect the wall, and does a good job in cleaning along the boundary without hitting the wall.
What is more surprising is you can achieve smart control on your smartphone. After connecting it with WiFi, you can decide when and how it cleans your home. In addition, you can also connect SG60 to a smart home device such as Alexa or Google Assistant, to realize voice control and 100% free your hands.
In addition to smart navigation, it is also an excellent cleaning robot with a long runtime and high suction. Its running time is up to 130 minutes, enabling it to clean a 1,400 ft2 house with one single charge. If you have a large and spacious house to clean, you don't need to worry. When the power is low, it will automatically return to the charging base for recharging.
In a word, it's simply excellent. If you haven't experienced the convenience of the smart robot vacuum, SG60 is your best budget robot with mapping.
#4. FAQs on Robot Vacuum Mapping
Q1. Is mapping necessary for robot vacuum?
Mapping may not be necessary for robotic vacuums, but it offers huge benefits. Mapping and navigation help the robot to move in a regular pattern rather than wandering aimlessly around the floor.
Additionally, it enables the robot to locate itself in a map, telling the cleaner where it has cleaned and where it is going to clean. The mapping technology dramatically improves the robot's cleaning efficiency.
Q2. Do robot vacuums learn your house?
Yes, robot vacuums that use mapping technology and sensors will learn the layout of your house. In the robot's initial cleaning, a large amount of data is collected and processed, which will be created to s a digital map and shown in your smartphone app. This map allows you to command the robot vacuum to clean any room, any time.
Q3. How long does it take for a robot vacuum to map your house?
Generally speaking, a robot vacuum can map a house after its first cleaning. But this may not be the most complete map. To draw an accurate map, the robot needs to be run at least 2-3 times.
---