Handheld Vacuum Cleaners: Go Anywhere to Ferret out Crumbs
How good is a handheld vacuum cleaner for house?
A handheld vacuum cleaner goes anywhere where larger hoovers can't. It can roam to every position, be it gaps between couch cushions, crevices, window frames or dirt under car seats. All hard-to-reach dirt and messes will be cleaned up in seconds.
That's the unrivaled cleaning power of handheld vas that large dust sweepers will envy.
Hence, it is necessary to purchase a hand vacuum cleaner to truly complete your whole home cleaning.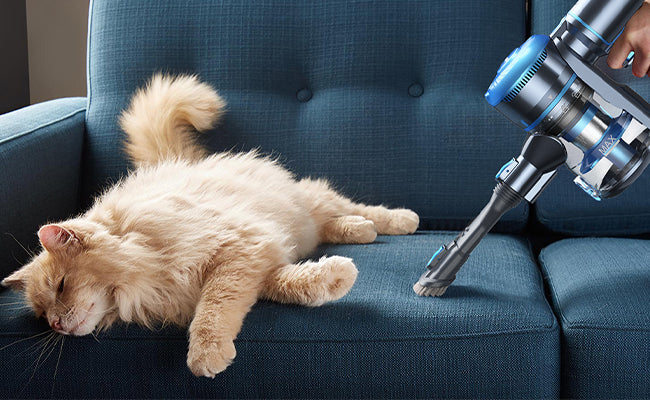 Quick Navigation
#1. How We Pick the Best Handheld Vacuum Cleaners
#2. Top 2 Best Handheld All-in-One Vacuum Cleaners
#1. How We Pick the Best Handheld Vacuum Cleaners
There are two vacuum cleaner types of handheld vacuums – corded and cordless. Indeed, corded dust busters tend to offer more powerful suction as they get continuous power supply.
However, we will focus on cordless handheld vacuum cleaners here as they offer more cleaning flexibility and are much more compact & lightweight, which is the main point of a handheld dust sweeper.
Suction Power
When testing the efficiency of a hand vacuum cleaner for home, we always confirm the vac is able to pick up not only visible crumbs and dirt but also fine dust, pet hair and dander.
So, the suction power tops the buying guide. For a mini handheld vacuum cleaner, there is no need to purchase a Superman to deal with dirt stuck in the gaps or crevices.
A good handheld vacuum cleaner with over 8 kPa and above 12 volts will offer sufficient suction power to suck up the dust, pet fur and dander on your sofa, couch, bed, furniture, mattress, upholstery, floor or carpet.
Comfortable Weight
We look for a small handheld vacuum cleaner that is comfortably held for 10-20 minutes without straining our wrists and forearms.
An electric handheld vacuum cleaner should be lightweight so that you are able to lift it easily. A hand dust buster with less than 1.5 kg would be easy for you to lift for 10-20 minutes.
Do focus on the weight and size when you are looking for a handheld vacuum cleaner for pet cat/dog hair, stair, dust or debris.
Battery Life
The biggest concern for a rechargeable handheld vacuum cleaner is the battery life.
It is advised to get a battery vacuum cleaner with at least 15 minutes when in maximum suction power, or at least 30 minutes when in minimum mode.
When we select the best handheld vacuum cleaners, we've taken the above factors into consideration as well as other customers' reviews and feedback, providing you with the below versatile options.
#2. Top 2 Best Stick & Handheld 2-in-1 Vacuum Cleaners
The recommended portable vacuum cleaners can be used a stick upright sweeper and a handheld hoover, enabling you to clean just every surface at home or in the car.
1. Best Rechargeable Cordless Vacuum Cleaner for Home and Car: Lubluelu 202
This powerful handheld vacuum cleaner with HEPA filter, is able to filter just every particle, dust, go-anywhere pet fur, long human hair, debris, carpets, at home, in the kitchen or in the office.
It offers 3 suction power modes – 15 kPa (max.), 17 kPa (mid.) and 10 kPa (min.), so that you are able to clean all litter easily. Turn this hand hoover to the maximum mode when cleaning large particles or stubborn dirt. Select medium or minimum suction mode for routine cleaning.
When you put on the upholstery attachment or the crevice tool to the motor, you are able to turn this stick vacuum cleaner into hand dust buster.
Clean the dirt on your sofa, couch, furniture with the upholstery and suck up dust on the gaps between sofa, window frames or hard-to-reach corners.
This battery handheld vacuum cleaner is just 1.3 kg, so it is just a breeze for you to hold this hoover easily for around 15-20 minutes without losing your breath.
The battery works up to 20 minutes when the dust sweeper is connected with the crevice tool and runs at the minimum suction mode. You won't be bothered by frequent recharging hassle.
Watch the video below to see how convenient the quiet handheld vacuum cleaner is in whole-home cleaning.
2. Best Budget Portable Handheld Vacuum Cleaner for Home: Lubluelu 008
This strong handheld and upright vacuum cleaner offers rich features without "rich" in prices.
With only $139.99, you can take this versatile handheld carpet cleaner home to clean your stairs, kitchen, garage, pet hair, bed, sofa, window, etc.
With 3 attachments – including the big roller brush, the soft brush and the crevice tool, you can use this hoover as a stick or handheld vacuum cleaner.
Insert the crevice tool or the soft brush to the main motor, and then press the power button to clean all particles immediately.
If you wanna reach the high places, add the telescopic pipe between the motor and the attachment. You may extend the telescopic pipe to reach high ceilings to clean corners easily.
The handheld hoover has two selectable suction power, the maximum suction mode (15 kPa) and minimum suction power (9 kPa). Clean large particles, such as coffee beans, with the maximum mode. Remove smaller dirt with the minimum mode – no particles can survive.
The rechargeable battery of 008 supports up to 40 minutes when connecting with the crevice tool at minimum suction mode – no more troublesome frequent recharging.
Same as 202, the 008 handheld vacuum cleaner weighs only 1.3 kg, making it easy to be held effortlessly.
Take a look at the video to see the flexibility and versatility of this home vacuum cleaner
---